---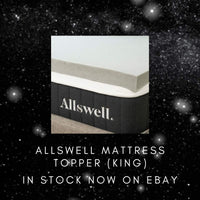 Sale
INTERNATIONAL SHIPPING AVAILABLE VIA OUR EBAY STORE
Extra comfort and support at an exceptional value. Infused with cooling graphite particles, this trusty toppers layer of plush memory foam will upgrade your sleep situation without upending your budget.

We've spent lots of time and effort and forfeited quite a few full nights of sleep to make sure our mattresses are as supportive and comfortable as we can possibly make them. And we'll keep working to make them better. But, we figured, why stop there? As we pursue our goals of building ever-more-fabulous mattresses in the hopes of providing great sleep for all, we asked ourselves: What about those who currently have and love their new Allswell? What if they could get an even better mattress without buying a new mattress? Enter our line of toppers.
Just like our mattresses themselves, they're a cushy testament to our passion for great sleep, blending state-of-the-art materials and smart technology but at a price that's downright retro. With their layers of luxe memory foam and a refreshingly cooling feel, they're designed to take your mattress a level up and make your Allswell dreams even sweeter.
3 single layer of open cell memory foam
Cool flow foam promotes air flow and wicks away moisture
Infused with cooling graphite particles, which transfer excess heat away from the body
King
Follow @BuyMartian on IG  and TikTok