---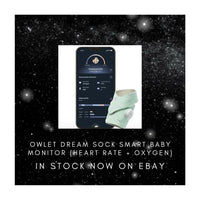 Sale
INTERNATIONAL SHIPPING AVAILABLE VIA OUR EBAY STORE
Owlet Dream Sock Smart Baby Monitor (Heart Rate + Oxygen Sleep Indicator)
Baby's foot can tell you a lot about their wellness
View Baby's Sleep Quality Indicators heart rate, AVG oxygen levels
Receive prompts when Baby needs help getting back to sleep
View everything together in the Owlet Dream App
Fits comfortably against Baby's skin
Designed for Babies 0-18 months and up to 30 pounds
Feel more at peace while Baby sleeps with the award-winning Dream Sock. This revolutionary, wearable smart baby monitor wraps comfortably around Baby's foot to provide accurate, consistent readings of your baby's sleep and wellness in the Dream App. A baby's foot can tell you a lot about their needs, more than a camera alone. The wearable Dream Sock is the only baby monitor that tracks heart rate and average oxygen level as Sleep Quality Indicators, so you can get the peace of mind that comes from knowing when they may need you.
This advanced baby monitor comes to life fully in the Owlet Dream App, where you can view your baby's most important Sleep Quality Indicators like: heart rate, average oxygen level, wakings, movement, and sleep state. Our proven technology generates a detailed sleep profile of your child and pairs with our Sleep Assist prompt, which will let you know if your baby may need you.
• Go beyond what meets the eye. A resting baby's foot can tell you a lot about their wellness, more than a camera. Owlet's award-winning wearable Dream Sock technology gives you the tools you need to be there for your baby.
• View your baby's Sleep Quality Indicators: heart rate, average oxygen level, movement, wakings, humidity, room temperature and sleep status.
• Receive prompts when Baby needs help getting back to sleep. Assist your baby when they may need you with Sleep Assist prompts from the Dream App and the bedside Base Station.
• View everything together in the Owlet Dream App. See Baby's readings, trends & a comprehensive 30-day sleep history, and spot patterns that can help you make changes to your routines as your baby grows.
• Fits comfortably against Baby's skin. The Owlet Dream Sock is made with a super soft, washable fabric and is designed to sit comfortably against Baby's skin while they sleep, just like a regular baby sock.
• Designed for babies 0-18 months and up to 30 pounds. Purchase the Owlet Dream Sock Extension pack for 18 months through 5 years of age.
Follow @BuyMartian on IG  and TikTok
Follow @GetEbayDiscounts on IG
© comp735 ™ LLC. All Rights Reserved. Shareable On Social Media. Unauthorized use not permitted.

Ships from United States. All items that ship outside of the Continental U.S. are subject to an additional shipping charge ($10+). Shipping within 5 business days of purchase. Return policy for this item : no returns (same as it is on our A+ rated EBAY store, so you can purchase confidently).
* International Shipping ONLY Available on our A+-rated EBAY STORE (CLICK HERE)